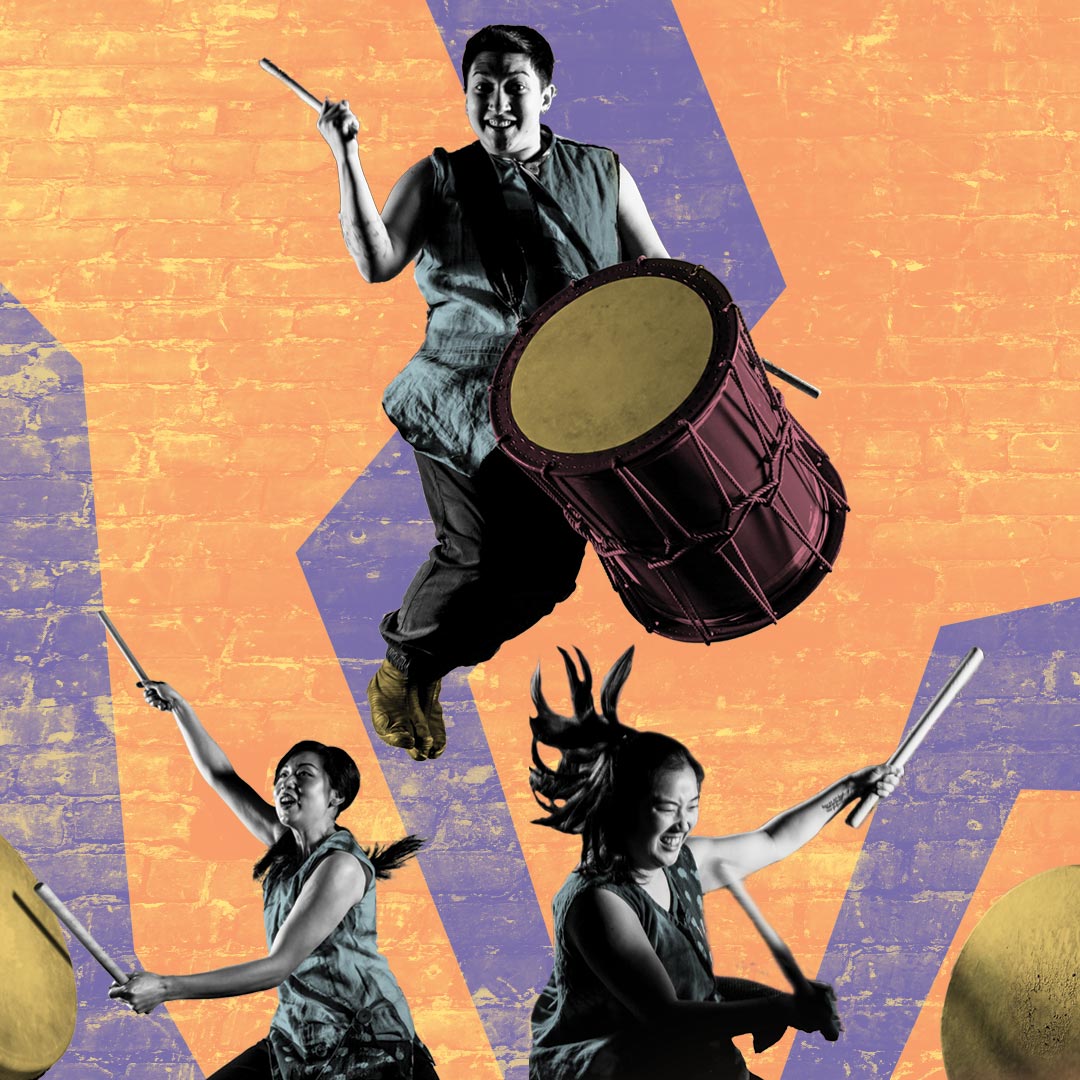 TaikoArts Midwest
Ensō Daiko at the Southern
Guest Artists: Tiffany Tamaribuchi, Megan Chao Smith, Sascha Molina, Nicole Stansbury
TaikoArts Midwest presents the best national and local taiko talent for a weekend of pure energy and fun. Join Ensō Daiko and their special guests, Tiffany Tamaribuchi, Megan Chao Smith, Sascha Molina, and Nicole Stansbury for a performance to get your blood pumping and your feet stomping. Tiffany Tamaribuchi competed against 27 male competitors, becoming the first woman and first non-Japanese to win the All Japan Odaiko Competition. Megan Chao Smith was her sidekick for that contest, and now we have them both onstage together, raising the roof at the Southern in a concert not to be missed!
What is taiko?
Taiko is the Japanese word for drum and refers to the modern style of playing these drums. It is heart-pounding, high-energy, and high-impact: A dynamic combination of music, dance, culture, and athleticism.

About the artists:
Ensō Daiko
(FORMERLY MU DAIKO)
Ensō Daiko offers loud, energetic performances that combine music, dance, culture, and pure athleticism. They group regularly premieres new work adding their unique voice to the expanding canon and innovation of North American taiko. Through performances, studio classes and school residencies, Ensō Daiko has taught thousands of students of all ages and abilities.
Ensō Daiko was founded as Mu Daiko in 1997 by Rick Shiomi. New Artistic Director, Jennifer Weir, renamed it Ensō Daiko in 2017, when TaikoArts Midwest took over the taiko program formerly supported by Theater Mu.
Tiffany Tamaribuchi
An internationally recognized taiko master and trailblazer. Tamaribuchi has toured internationally with Za Ondekoza, one of the most renowned Taiko groups in the world. In addition to being featured soloist at Carnegie Hall, she also has the distinction of winning the 2005 All-Japan Odaiko Competition as well as placing highly in the first Tokyo International Odaiko Competition the same year.
Tiffany first began studying taiko with master Seiichi Tanaka of the San Francisco Taiko Dojo before undertaking extensive training in Japan under Zampa Ufujishi Taiko and Mafueakaji Eisa in Okinawa, Kodo-Juku on Sado Island, Niigata prefecture, Oedo Sukeroku in Tokyo and Suigun Daiko in Matsuyama, Ehime prefecture, to name a few. Over the years Tiffany has founded the Sacramento Taiko Dan, Tozai Wadaiko and, Jodaiko, an international all-women taiko group known for its powerful performances.
Always working to deepen understanding about taiko in Japan for North American audiences, Tiffany recently debuted the first Ondeko group outside Japan after training with Kasuga Onigumi on Sado Island and receiving their permission to share their indigenous art form with others.
Ensō Daiko Performers:
Jennifer Weir (Artistic Director), Jeff Ellsworth, Susan Tanabe, Chiaki O'Brien, Michiko Todokoro Buchanan, Emma Valentine, Arlene Teraoka, Jennifer Cho, Liz Kane (intern), Hirosho Yoshino (intern), Sean Dembowski (intern)
Lighting Designer: Grant E. Merges
Show length: 2 hours with 15 minute intermission

Recommended for all ages

This activity is made possible by the voters of Minnesota through a grant from the Metropolitan Regional Arts Council, thanks to a legislative appropriation from the arts and cultural heritage fund.

Additional Funders: McKnight Foundation, Elmer L. & Eleanor J. Andersen Foundation, MN Taiko.