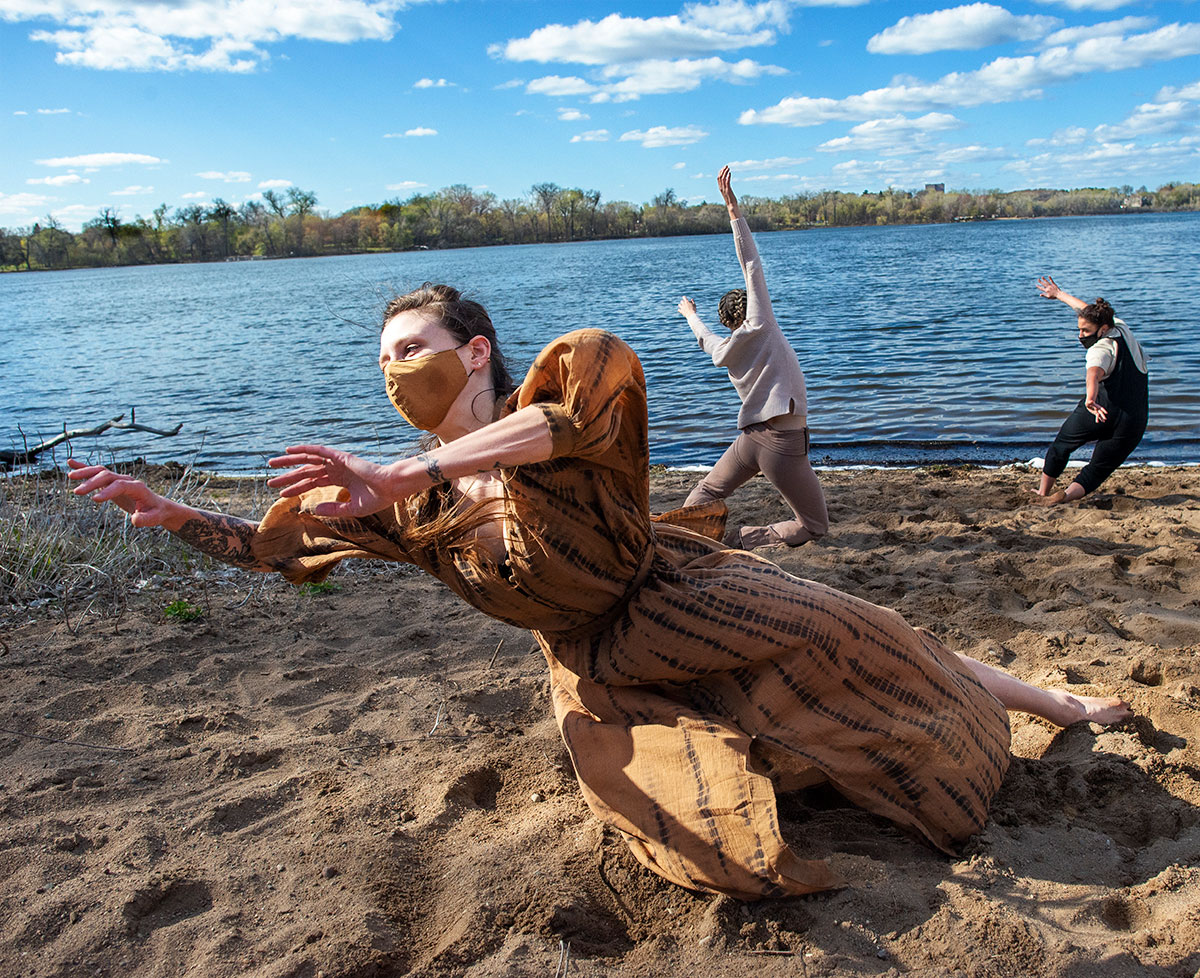 Jagged Moves
TOUCH CODE: (Re) Claiming Space
Jennifer Glaws' Jagged Moves, "Jagged Moves has created a fresh dance experience in the Twin Cities! In the land of 10,000 dances, they have a unique voice. Their vision and execution keep you entranced. The movement and environment are navigated masterfully by the dancers," (Audience Member, March 2018).

TOUCH CODE: (Re) Claiming Space
Jennifer Glaws brings her viscerally honest choreographic voice and rich investigations in EFFORT and SPACE to the Southern Theater's stage for a one-of-a-kind performance by Jagged Moves. The full evening, all female sextet, explores the central themes of boundaries and reclamation as flutist Julie Johnson performs original scores of her experimental and contemplative music. The dancers traverse the soundscape and mysterious, sculptural environment on a relentless journey of agency, investigating the stories that reside between "us."
Crafted collaboratively between Glaws and the performers, the choreography amplifies the energy and responsiveness to the interruption of personal space by exhibiting a raw and exposed view to the desire, resistance, uncertainty, power—or lack of power—in proximity.

FEATURING PERFORMING ARTISTS: Emma Marlar, Gemma Isaacson, Genevieve Waterbury, Julie Johnson, Margaret Ogas, Marisol Herling, and Sharon Picasso
CHOREOGRAPHY AND ARTISTIC DIRECTION: Jennifer Glaws
SCULPTURE AND SET DESIGN: Jess Kiel-Wornson
SOUND DIRECTION AND DESIGN: Dan Dukich
LIGHTING DESIGN: Mike Grogan
PROMOTIONAL PHOTOGRAPHY: Jennifer Glaws
PERFORMERS FEATURED IN EVENT IMAGE (L-R): Gemma Isaacson, Genevieve Waterbury, Marisol Herling
PERFORMANCES:
Wednesday, Nov. 3, 10:30 AM–Student, Artist, Senior: reduced $10 ticket, Post-show Q&A
Thursday, Nov. 4, 7:30 PM
Friday, Nov. 5, 7:30 PM
Saturday, Nov. 6, 2 PM —Pay as able
Saturday, Nov. 6, 7:30 PM —Post show reception
Sunday, Nov. 7, 4:00 p.m.
LIVESTREAM SCHEDULE:
Wednesday, Nov. 3, 10:30 AM and Saturday, Nov. 6, 7:30 PM performances will be broadcasted live
ON-DEMAND SCHEDULE:
A pre-recorded video of the performance will be offered as On-Demand from Saturday, Nov. 6 through Sunday, Nov. 14. ON-DEMAND TICKET
EXTRAS:
View Jagged Moves' 2020 dance film, Homage to Touch Code: Then, and Now, and What is Yet to Come, as well as behind the scenes footage of the cast by adding an EXTRAS ticket to any purchase.
*Duration: Approximately 60 minutes with no intermission


FIND OUT MORE:
Artist Bios: https://jenniferglaws.org/jagged-moves
Website: https://jenniferglaws.org/touch-code
TOUCH CODE: (Re) Claiming Space is made possible by the producing support of The
Southern Theater and their Performance Partnership Program.
In addition support is provided by:
Jennifer Glaws, a fiscal year 2021 recipient of a Creative Support for Individuals grant from the Minnesota State Arts Board. This activity is made possible by the voters of Minnesota through a grant from the Minnesota State Arts Board, thanks to a legislative appropriation from the arts and cultural heritage fund.
Health and Safety Guidelines
To ensure the safety of our patrons
, Jagged Moves and The Southern Theater will require all individuals who attend an in-person performance to provide proof of COVID-19 vaccination or a negative COVID test taken within 72 hours before entry. Masks must be worn by all patrons and staff. Audiences will be small and socially distanced. Please email
jagged9@hotmail.com
or
info@southerntheater.org
with questions.
Content Warning
This performance explores many themes of touch, including heightened place of stress response, and sexual assault. In the first ten minutes of the performance there is a spoken word segment containing sensitive material that draws from stories of sexual assault. We support any and all types of care needed and encourage your well-being to be at the forefront of your viewing experience. If you have questions about the content of the performance please email jagged9@hotmail.com.
No one turned away for lack of funds. Email jagged9@hotmail.com for support accessing this show, financially or otherwise.
Date and Time
Wed, Nov 3, 2021 10:30 AM - Jagged Moves
Thu, Nov 4, 2021 7:30 PM - Jagged Moves 2
Fri, Nov 5, 2021 7:30 PM - Jagged Moves 2
Sat, Nov 6, 2021 2:00 PM - Pay What You Can
Sat, Nov 6, 2021 7:30 PM - Jagged Moves 3
There will be a post-show reception
Sun, Nov 7, 2021 4:00 PM - Jagged Moves 2